Working in residential backyards or other hard-to-reach areas is now even easier with the new Bobcat T110 compact track loader. With a width of 47 inches, the T110 is ideal for other home projects, including additions, pool excavation, landscaping and site prep for sidewalks.
You can tow the K-Series T140 behind a pickup truck to easily reach small jobsites. Just 55-inches wide, it's ideal for saving time and labor in places like backyards and side yards.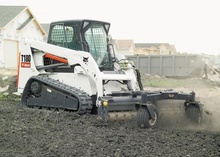 The mid-size radius lift path K-Series T180 gives you plenty of impressive tractive effort, breakout force and pushing power for your dirt-moving jobs. And it provides the hydraulic flow to power a wide range of attachments and finger-tip controls to operate them easily.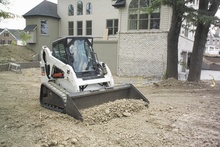 With its vertical lift, the K-Series T190 is ideal for lift and carry jobs and for loading trucks. Plus, it maneuvers easily when space is limited.
Combing outstanding breakout force, pushing power and tractive effort, the K-Series T250 is the perfect machine for heavy grading and excavating work. The radius lift path offers excellent reach at mid-lift height, too.
The mast of just about every task, the powerful K-Series T300 tops the field when it comes to making easy work of the toughest jobs. The vertical lift path, with its hefty lifting capacity, makes loading trucks a snap.
When there's no such thing as too much power, start up the Bobcat T320 compact track loader! Tough grading, heavy pushing and high-flow attachment applications are no sweat for the T320's impressive 92 horsepower engine.
The Bobcat® T630 compact track loader is part of the M-Series. Get top productivity and extend your working season with the T630. The radius lift path gives you maximum forward reach at flatbed truck height for a variety of grading, digging, trenching and backfilling jobs.
&nbsp